SEO tools
Search Engine Optimization (SEO) is arguably the most cost-effective digital marketing technique, but also the most challenging to get right.
The First very Organic Result on the First Search Engine Result Page sees about 32.5%of Overall Search Traffic in terms of clicks. The Second domain sees 17.6% while the 7th only sees 3.5%
Google PageRank (Google PR) is one of the methods Google uses to determine a page's relevance or importance. Important pages receive a higher PageRank and are more likely to appear at the top of the search results. Google PageRank (PR) is a measure from 0 – 10. Google Page rank is based on back links
Web Search Engines and some other sites use Web crawling or spidering software to update their Web Content or indices of others sites' web content. Web crawlers can copy all the pages they visit for later processing by a search engine which indexes the downloaded pages so the users can search much more efficiently.
A website is a collection of related webpages, including multimedia content, typically identified with a common domain name and published on at least one webserver.
A keyword, in the context of search engine optimization, is a particular word or phrase that describes the contents of a Web page.
Google is used for search of information about (someone or something) on the Internet using the search engine Google.
Search Engine Genie has been a leader for over 10 years when it comes to providing free resources for webmasters and site owners. Our Initial aim was to reach 100 webmaster / SEO tools. Today search engine genie has well exceeded expectations and reached 125 plus tools. When you do something for over 10 years you will be good at it. We have over 1000 users per day using our tools.

Here are the top 10 list from logs over the past 6 months.

No.10 : You never know what people like. Out of over 125 tools Search Engine Genie team has developed. This Content to code ratio tool has stood out and ranks No 10 right now. If you haven't tried this interesting webmaster tool go to the below link and give it a try, you will like it.
Content To Code Ratio Test Tool

No.9: Yahoo position checker tool, right now the No.1 ranked free tool across all search engines to check rankings in Yahoo. It queries yahoo's search engine and will deliver accurate results. We are constantly working on this tool to make sure it works and delivers results accurately.
Yahoo Position Checker Tool

No.8: People's obsession to nofollow tag has never changed. This is the 8th best tool we have based on user traffic. People really like to check whether a page has nofollow links. If you never tried this tool it is time to head there and give it a try. Works wonderfully and results are accurate. Problem with this tool please submit a comment here we will check it for you.
No Follow Links Finder-Checker Tool

No: 7 Bing is the 2nd more important search engine now right next to Google. When people wanted alternate for Google search engine they went to Bing. Today Bing gets about 10% of all search engine traffic. Though that is way low compared to Google they power other major search engines like yahoo which boosts their market share.
BING Rank-Position Checker Tool

No:6 Google backlink checker is ranked 6 of over 125 tools. Today there are only a handful of backlink tools. Google, bing, yahoo all hide backlink data from regular users. People have to depend on third party tools like Ahrefs, backlink watch, majestic SEO, Moz link explorer to get backlink data of their competitors or any site they want to check. Our tool queries Google search engine and tries to fetch backlinks for any site. We don't claim our tool to be accurate but when you don't have anything out there it is better to have one like this.
Google Backlink Checker

No:5 This tool speaks for itself. We never took so much effort on a single tool. We invested a lot of time and resources to bring you a great tool to check your on page. Our tool is free for unlimited usage. Enjoy this free on page tool and give us your valuable feedback on how to improve.
SEO On Page Checker

No.4: Want to know if your site is banned in Google. Use this tool to find out. Don't get excited or shocked by this tool. Though we try to be as accurate as possible with this tool, it is better to consult a SEO expert before making decisions.
Google Banned Site Checker Tool

No:3 : This is my personal favorite. Not just me but 100s of webmasters / site owners / SEO use our tool. Looks very simple but makes life very easy for everyone. Checking Google's cache date has become more and more difficult. You need to search to find out where Google displays cache date. Hre you just input your URL and next second you get to know when Google last cached your web page.
Google Bot Last Accessed Date

No:2 Only valid tool to check if your site is in dreaded Google sandbox filter. Sometimes this tool is unpredictable because too many people use it. Again don't take this tool too seriously consult a expert before making Business decisions. Search Engine Genie has top class SEO experts who help you whenever you are in need. Email us at webpromotions@gmail.com or support@searchenginegenie.com for quick response
Google Sandbox Checker Tool

No:1 No words to say about this tool. This tool is ranked so high in search engines it gets 10 times more traffic than any other tool we have in our site. It beats the next best tool sandbox checker 10:1 in traffic. We take lot of pain to keep this free tool working for our users. When you like our tools please support us by linking to it. You will find link data from those pages.
Google Position Checker Tool

Good luck with our tools

Search Engine Genie's team is here to always provide great innovation. If you have a new tool suggestion comment here and our developers will build it free to use. We don't believe in subscription tools.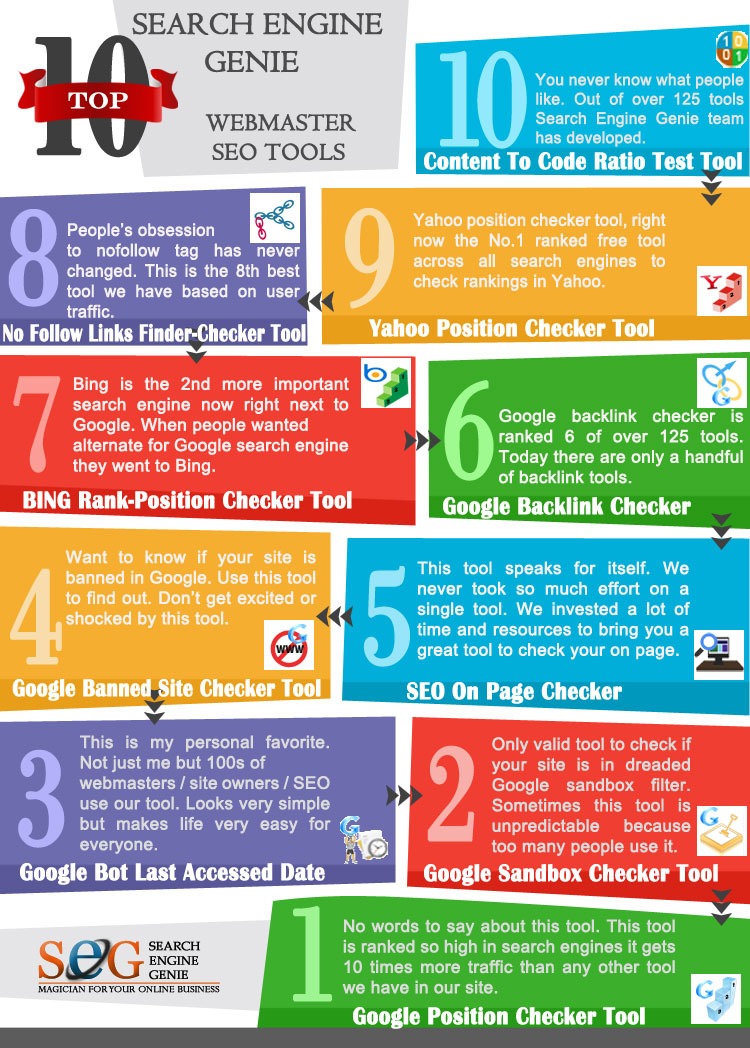 As you all know we at Search Engine Genie have the most comprehensive set of SEO tools.
https://www.searchenginegenie.com/seo-tools.htm
We like to take this opportunity to thank everyone who have used our tools on a regular basis. We will continue to keep our tools free for many years to come. We hate the policy of tools subscription. Please don't fall for tool subscription scam. There are enough free tools available online that you can use for your SEO purpose.
Free tools help you limit the queries you send to Google. Automated paid tools send mass amount of queries to Google when can result in penalty for your site. Google has always said they will ban tools that send mass amount of queries to their search engines. For example web position gold a tool that scraps Google was literally banned for a very long time. Nowadays there are subscription based tools that has sprung up. Avoid using them long term because
1. Google knows what are the sites that are sending too many automated queries.
2. Mass automated tools will stop anytime soon. Google knows how to block them.
3. Results vary significantly because most of the time tools set results to 100 instead of 10 the way we do normal search.
I can list out many reasons to not shed out money on tools that are freely available online.
We at search engine genie do periodic checks our tools to make sure most of them work. Yes some tools stop working as the search engines evolve but we do our best to make most of them work.
Keep using our free SEO tools and don't FALL for paid tools SCAM.