Google has recently made a lot of changes to their site links. When site links ( links that appear below the site when the domain name or other major name that the domain represents appears ) came into existence people thought its a weird thing. But now Yahoo, Bing both uses them copied from Google. Its an interesting way for people to find pages to a site they get a chance of multiple pages to be clicked from the search results itself. I have personally used site-links for a long time. Every one out of 2 times i have clicked a site link than the primary result. So yes as an active internet user i use sitelinks which i feel is a big achievement from Google. A trial has worked for them and we usually see tracking URLs in Sitelinks so even Google is monitoring the clicks on sitelinks.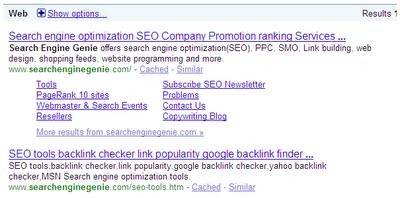 Today Google has improvised a lot when it comes site links. They came up with a site link similar to simple single line text links we see it visible these days. Take a look at the following example.
Now furthur improvization they are able to show actual links in descriptions it was not the case before. It shows how much effort Google is putting into their organic search too. They know Organic search is their primary area and they need to keep focusing on improving it. I am sure we can see a lot of improvization in future.

Great going Google keep it up.
2 Comments to New Sitelink-type links with meta descriptions on some searches
Leave a comment